Urban Art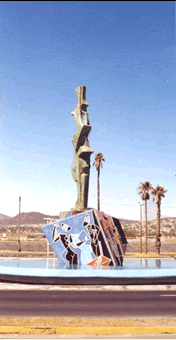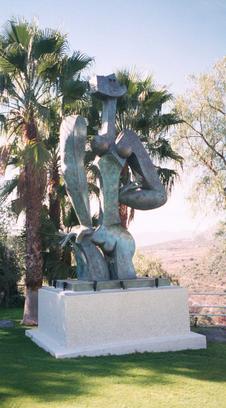 Since early in his career, Byron has expressed a belief in the importance of art as part of everyday life, and in the integration of art as part of man's environment. When in the presence of one of his large format canvases (which often are bigger than seven feet by seven feet) one is transported to Byron's world, it was a logical consequence that as Byron has improved and grown, so have his sights of introducing his viewer INTO the art.
Some of Byron's early works as as student were murals and large scale metal sculptures. Though he focused on two-dimensional media in the seventies and eighties, he never totally left sculpture. In recent years he has worked on various larrge format sculptures which grace entrances and atria of public and private buildings.
As Byron has done with Acrilography, in urban sculpture he has also experimented with mixed media, as an example, stands the majestic twelve meter high (9 meter bronze on top of 3 meter mosaic base) sculpture/fountain which greets visitors on the road as they enter the state capital of Hidalgo. This sculpture, was produced to celebrate the millenium in December of 1999.
Ben Gurion Cultural Park in Pachuca Hidalgo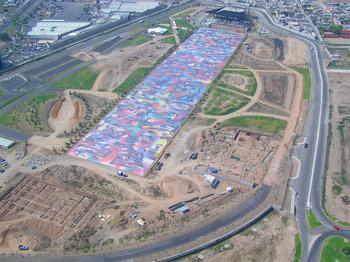 Since 2001, Byron has been working on a much larger canvas:
Located in the metropolitan zone of Pachuca, the Ben Gurion Cultural Park consists of 65 acres where we can see works such as the Museum of Contemporary Art, the Music Conservatory for All Times, a Convention Center, a Concert Hall, The Museum of Science and Technology, a high quality hotel and a shopping center. We can also find a Sculpture Garden: a space dedicated to public art where the community can get exposure in a direct form to internationally respected manifestations of monumental sculpture. There will be sufficient green areas to practice diverse spiritual disciplines such as Meditation, Yoga, Tai-Chi, etc; as well as different modules and children games (swings, climbing games) located through the leisure zones. Surrounding all of this will be a circuit that can be used for skating, cycling or jogging and walking, an Audiorama inspired on the fundaments of Pre-Hispanic architecture and an open-air auditorium in which will be presented concert seasons, dance, theater and other performances. The landscape will be complemented by a lake, on the shores of which cafés and restaurant will take park in the self-financing aspect of the project, together with a shopping area and the renting of spaces for special events. The trees in the Park are a donation of the Keren Kayemet L'Israel foundation, representing the Mexican Jewish community.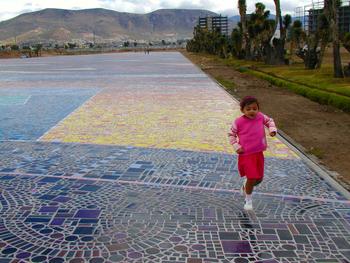 The visual backbone of the Park is a Central Plaza. Measuring 1312 feet by 262 feet, the Plaza is the largest pedestrian mural in the world; its 345,000 square feet surface can easily be seen from high (in the full image of the mosaic shown above, each pixel is roughly equal to one foot!). The Park, as well as all of the buildings that surround it, is administered by a civil Foundation governed by a board that will oversee of its day-to-day functioning and maintenance.
The mural, as well as the master plan of the park, is the work of Byron Gálvez.
© Copyright 2004